This page contains the original text in French. You can use the automatic Google Translation using these links:
Heure : 19:30 heure de Bruxelles / 13h30 heure de Québec
Dates : Mercredi 16 décembre
Participation gratuite. Lien Zoom : https://us02web.zoom.us/j/83332308558
Rencontres en Présence à Bruxelles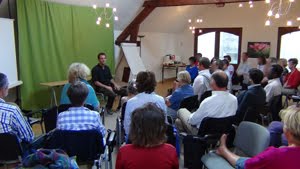 Les rencontres avec Michaël et Della recommenceront après le confinement.
Les mercredis de 19h à 20h45
Centre Saint-Marc, avenue De Fré 76, 1180 Uccle. Salle à gauche au fond du couloir, porte vitrée. Possibilité de se garer dans le parking (la barrière s'ouvre automatiquement).
Dons conscients. Inscription requise en cas de première participation en envoyant un email à .